– Over 50 Years Combined Experience –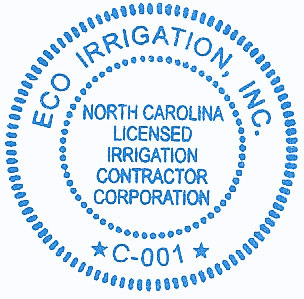 Eco Irrigation has more than fifty years of experience in all aspects of the irrigation industry and has served as the Raleigh irrigation company of choice for homeowners and businesses. Our extensive background enables us to provide our clients with the knowledge and insight to make decisions that use water more efficiently and cost effectively. John Marmorato, President of Eco Irrigation, is a Certified Irrigation Contractor and an EPA Water Sense Partner. Eco Irrigation is also a member of the Carolina Irrigation Association and the Irrigation Association.
Eco Irrigation a Raleigh irrigation company, specializing in water conservation, consulting and irrigation services.  We provide both residential and commercial services and repair almost all brands of irrigation systems throughout Raleigh and surrounding areas. We also service Cary & Apex. When you work with us, we will always try to reduce the amount of time you need to irrigate and provide long term savings that benefit your budget and the Earth.